Amazon jio recharge offer today– Free Recharge Tricks
By
• Last Updated
Amazon jio recharge offer today: Hey guys hope you are enjoying our best Recharge Tricks , Hope you are enjoyed with it, Today we are coming with a new recharge trick to get cashback upto 44 on your jio mobile recharge, Kindly go through the step by step process to know more.
Amazon jio recharge offer today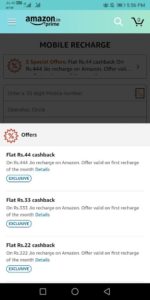 amazon jio recharge,jio recharge amazon
No Of Offers from amazon jio Recharge:
Flat Rs 44 Cashback
Flat Rs 33 Cashback
Flat Rs 22 Cashback
Flat Rs 20 Cashback
Unlock shopping offer : Flat 100 Cashback on Amazon (universal offer)
Amazon Pay Jio Recharge Offer Conditions:
1. Amazon is giving a flat 44 cashback as amazon pay balance on recharge of amount Rs.444, i think you should not miss this deal since its a amazing recharge tricks to get amazon pay cashback.
2. Amazon is giving a flat 33 cashback as amazon pay balance on recharge of amount Rs.333 , Min blowing offer guys a from amazon, Lets loot this great deal.
3. Amazon is giving a flat 22 cashback as amazon pay balance on recharge of amount Rs.222. Nice recharge trick to get some cashback.
Note: This offer is only valid for fist recharge of the month.
4.Amazon is giving a flat 20 cashback as amazon pay balance on recharge of amount Rs.149, Your monthly need this great guys loot this recharge trick.
Note: This offer is only valid for fist recharge of the month.
amazon pay jio recharge offer
Unlocking Shopping Offer:Flat 100 Back on amzon.in
Guys here amazon is again providing a very good recharge tricks to get flat 100 back on your next shopping from amazon, If you will do a jio mobile recharge of Rs 444 then only you are eligible to this offer ,that means then only amazon will give you a flat 100 amazon pay balance cashback on your minimum of Rs 500 shopping.
Note: Guys you have to shop a minimum of rupees 500 to get the flat 100 cashback.
Try This
:
Amazon Quiz Answers- Amazon Daily Quiz Answer Today
Amazon pay jio recharge offer 500 Cashback Offer:( Expired)
Here is the awesome recharge tricks which help you alot guys ,try this:
1. First guys move to the amazon website from here : Clickhere
2. Now click on My offer section you will find a Jio recharge offer banner like this.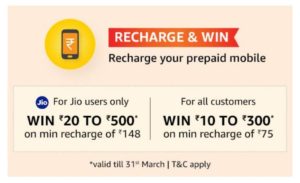 recharge tricks
Try This: free Tricks Wolrd
3. Click on the button Collect this Offer from amazon offers.
4. Soon you will get a message as well as email with all details that you are eligible for 500 cashback offer.
5. Now you are done recharge your jio number with the sprecified amount.
6. Note: This offer very amazon to amazon account since this is a amazon pay account specific related offer, So visit amazon to get the best offer.
Jio Recharge Offer T&C?
The limited period promotional offer, namely 'Prepaid Mobile Recharges' offer ("Offer") is provided to you by Amazon Pay (India) Private Limited ("APIPL") and is made available by Amazon Seller Services Private Limited ("ASSPL") on the website www.amazon.in and the corresponding mobile site and mobile application (collectively, "Amazon.in"), in respect of the prepaid mobile recharges on Amazon.in.
These offer terms and conditions ("Offer Terms") are in addition to Amazon.in Conditions of Use and Privacy Notice to which you agree to by using Amazon.in and the terms that are applicable to Postpaid Mobile bill payments. To the extent the Conditions of Use are inconsistent with these Offer Terms, these Offer Terms shall prevail with respect to the Offer only.
This Offer is valid from March 1, 2019, to March 31, 2019 (both days inclusive) ("Offer Period"), unless extended or revoked by APIPL in its sole discretion, without prior notice, and without any liability.
During the offer period, any customer who undertakes / purchases a prepaid mobile recharge of Reliance Jio, for a minimum purchase of Rs.148 on Amazon.in during the Offer Period ("Mobile Recharge"), making payment thereof using any available payment methods, each such customer will be eligible to receive a promotional cashback in relation to the amount paid by the customer for the Eligible Transaction.
The cashback under this Offer will be provided for a minimum amount of INR 20 and a maximum amount of INR 500 per customer per Eligible Transaction. It is clarified that the amount of cashback that a customer receives will be determined on a random basis and APIPL accepts no responsibility for the amount that a customer receives under this Offer.
The cashback benefit will be provided to the customers in the form of Amazon Gift Card, issued by QwikCilver Solutions Private Limited, redeemable as Amazon Pay balance in the Amazon.in the account of the customer. The use and redemption of the gift card(s) and the use of Amazon Pay balance will be governed by the applicable terms and conditions.
The cashback (under this Offer) will be provided to the customer within 3 business days of completion of the Prepaid Mobile recharge transaction.
This Offer can only be availed by the customer once during the Offer Period, i.e. only on one Eligible Transaction.
A customer will not be eligible to receive the cashback under this Offer, if the Eligible Transaction that is canceled, for any reason whatsoever, by the customer, by APIPL (the entity that makes the Prepaid Mobile recharge available on Amazon.in), or by the Prepaid Recharge Mobile Provider.
APIPL reserves the right, at any time, without any prior notice, without liability and without assigning any reason whatsoever, to add / alter / modify / change or vary any or all of these Offer Terms or to replace, wholly or in part, this Offer by another offer, whether similar to this Offer or not.
Nothing contained in these Offer Terms amounts to a commitment by APIPL to conduct further, similar or other offers.
Under no circumstances, will the benefit being offered under this Offer be settled in cash in lieu thereof by APIPL and/ or ASSPL.
APIPL reserves the right to disqualify any customer from this Offer if any fraudulent activity is identified as being carried out for the purpose of availing the Offer.
Any query/issue in relation to the benefits under this Offer will be entertained by APIPL only up to 31 March 2019 (i.e up to the end of the offer period).
The customers are not bound in any way to participate in or avail this Offer. The participation in this Offer is voluntary. The Offer is being made purely on a best effort basis.
Any person availing this Offer shall be deemed to have accepted these Offer Terms.
These Offer Terms are governed by the laws of India and the courts at New Delhi will have exclusive jurisdiction over any matters/disputes arising out of or in relation to these Offer Terms.
Must try: Hotstar Premium Accounts
Offer Search Term
Amazon Jio recharge offer | Amazon Jio recharge cashback offer | Amazon jio recharge offer today | amazon pay jio recharge offer |amazon jio recharge | jio recharge online | jio recharge offers today | amazon mobile recharge offer | amazon pay mobile recharge offer | amazon recharge offer | amazon prepaid recharge | amazon jio recharge offer 2019 | Free Recharge Tricks |Amazon recharge jio | amazon pay recharge offer| jio recharge amazon