Airtel USSD Codes,Airtel Balance Check Number,Airtel Recharge Code
By
• Last Updated
Airtel USSD Codes,Airtel Balance Check Number,Airtel Recharge Code
Airtel USSD Codes Stands for Unstructured Supplementary Service Data Which Is Used to Check Your Airtel Balance,Check The Airtel Special Recharge Offer & To Start or Stop a Paid Service Through This Channel. These USSD Codes Are Introduced To Communicate With The Mobile Device To The Mobile Network Operator.
History Of Airtel:
Airtel Is The Base Company Of Bharti Airtel Ltd. Airtel Is a Global Telecommunication Service Provider To Most of The Countries & Stand Alone With Having Its Global Network Without Joining Any Hand On The Competitor Market.
Airtel is Now Becomes The 2nd Largest Telecom Service Provider Company With Millions Of Users Inside. To Provide Better Service TO Their Users It Has Discovered Some Shorts Of USSD Codes For User Friendly Experience.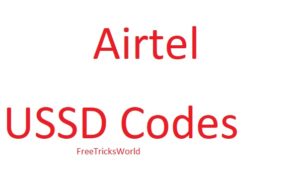 Airtel USSD Codes List
Why USSD Codes Are Introduced?
To Serve A Huge Subscriber Airtel First Of All Introduced its Customer Care Service But Unfortunately its Not Possible To Serve a Lots of Customer, Since Its Facing The Network Glitches To Provide The Service To The Customer, Finally Airtel Reduced Its Customer Service & Introduced These USSD Codes To Reduce The Traffic To The Call Center For General Enquiry.
Since Many OF Users Are Calling Customer Care To Know Their Validity Recharge Amount, Best Offer, Paid Service Like Balance Transfer,Hello Tune Subscribe & News Upadate, Astrology Update & Many mores.
After DIscovering The USSD Code The Traffic To The Customer Care Unit Has Been Successfully Reduced As planned & Now Users Can Enquire About Balance Then He Has To Dial Some USSD Code On his/her Mobile To Get The Same On The Device Screen.
Since This is A Very Big Achievement Thats Why The Reason Airtel USSD Codes Are Introduced To Make The Service Smoother.
Airtel USSD Codes List (Latest Updated USSD Code By Airtel):
| | |
| --- | --- |
| | |
| | To Check The Balance & Validity |
| | TO Know Your Airtel Number |
| | To Know The Airtel 2G Balance |
| | TO Start The Value Added Service |
| | To Know The Last 5 Transactions Details |
| | TO Activate The Airtel Missed Call Service |
| | To Transfer Your Balance to Others |
| | To Know Airtel Best Offer For You |
| | To Stop a Airtel Value Added Service |
| | To Know The Airtel SMS Balance |
| | To Activate The Airtel Live Service |
| | To Check The Airtel Data Balance |
| | To Know The Airtel Best Offer |
| | To Activate The Free Airtel Facebook |
| | To Activate Airtel Hellotune Service |
| | Airtel Customer Care Number |
| | Airtel Customer Care Complain No |
| | To Know Airtel Roaming Service |
| | To Take A Credit Loan Instantly |
| | To Get Airtel GPRS Setting |
| | To Know The Airtel SMS Pack |
| | To Recharge Your Mobile No Via USSD Code |
How To Use USSD Codes On Your Airtel Mobile?

1. Open Your Mobile Dialer As Shown on The Below Image.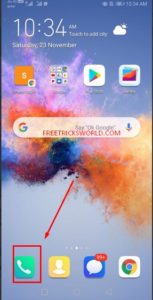 How To Run USSD Codes


2. Just Type The Code As Provided Above And Press The Call Button.


How To Know Airtel Mobile Number
3. Now You Can See The Best Offer For You Will Display On Your Screen As Below: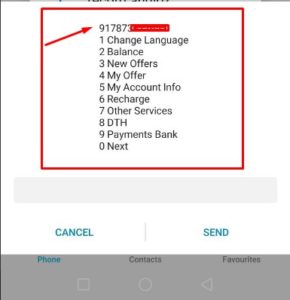 Know Airtel Mobile Number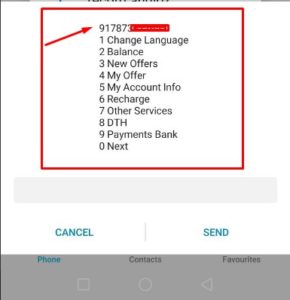 Know Airtel Mobile Number
4. Now You Can easily See Your Airtel Mobile Number Display On The Screen, If Your Forgor Your Airtel Mobile Number. By Using This Trick Or Using this Airtel USSD Code You CAn Find Your Airtel Mobile Number.
5. Thanks For Reading.



Advantage Of Airtel USSD Codes:

1. You Can Easily Find Your Mobile Number Simply Dialling Code.

2. You Can Get the Latest Airtel Offer detail.

3. Easily Activate The Paid Service.

4. You Can Start & Stop A Service Using The USSD Code.

5. Transfer Your Money To Other Airtel Number Using the Codes.


How To Know Airtel Mobile Number?
You Have To Simply Dial The Airtel USSD Code *121# or *121*1# To See Your Mobile Number On The Screen Immediately With Most Recharge Plan & Offer Details.


How To Check Airtel Data balance Check Number?
Finally the wait is Over, Here You Can Dial the Airtel USSD Code * *123*8# To See Your Data used & Data Left On Your Mobile Number Whether Its 25,3G or 4G SIM, Airtel Provides So many Data Plan For Day May Be 2GB Data Plan Per Day Or 1.5GB Data Plan Per Day , TO Check The Details You Need To Dial *125*1541# to See Your Data Plans Details & Validity. This Can Be Possible Through The USSD Codes Only.

Note: This Will Show You The Per Day Data Limit.
Conclusion:

Now here We Conclude That Airtel USSD Code Service Is Very Good Since Its Giving The Information On The Mobile Screen Itself Without Calling A Customer Care Of Airtel. You People easily Activate & De-Activate The Service Using These Above Codes.

Since The USSD Codes Are User-Friendly & Save Our Times To Get The Best Offers As Soon As We dial It. So I Hope You guys Are Like This Post & Get The Advantage Of its, If You Really Like it Kindly Share It To Your Friends & Family To Support Us .
If You Have Any Doubt Or Looking For A USSD Codes Which IS Not Mentioned Above Kindly Comment Below We Will Post It For You.

Try This:
Amazon Quiz Answers Win Free Stuff Today 23 November