Largest Crypto Exchanges Today in 2024
By
• Last Updated
Are you Looking for the largest crypto exchanges where you can invest?
This is the best and number one place where you will find the list of largest exchanges for cryptocurrency where you can think and make your decision to trade.
Once you complete this article you can have a very good and well-known idea of which will be the best trading platform or exchange to keep your money safe & provide you with a good return.
This article will help you out with every aspect or concern you have before investing in crypto which you may trust or not, here in this post I will go through every large crypto exchange with a details overview and also with images and clips, video to have a clear picture.
In the interim, if you faced any technical glitch you can immediately drop me a message or comment on the below post so that I can do my label best to help you out with this.
Try This: Best Paytm Cash Earning Apps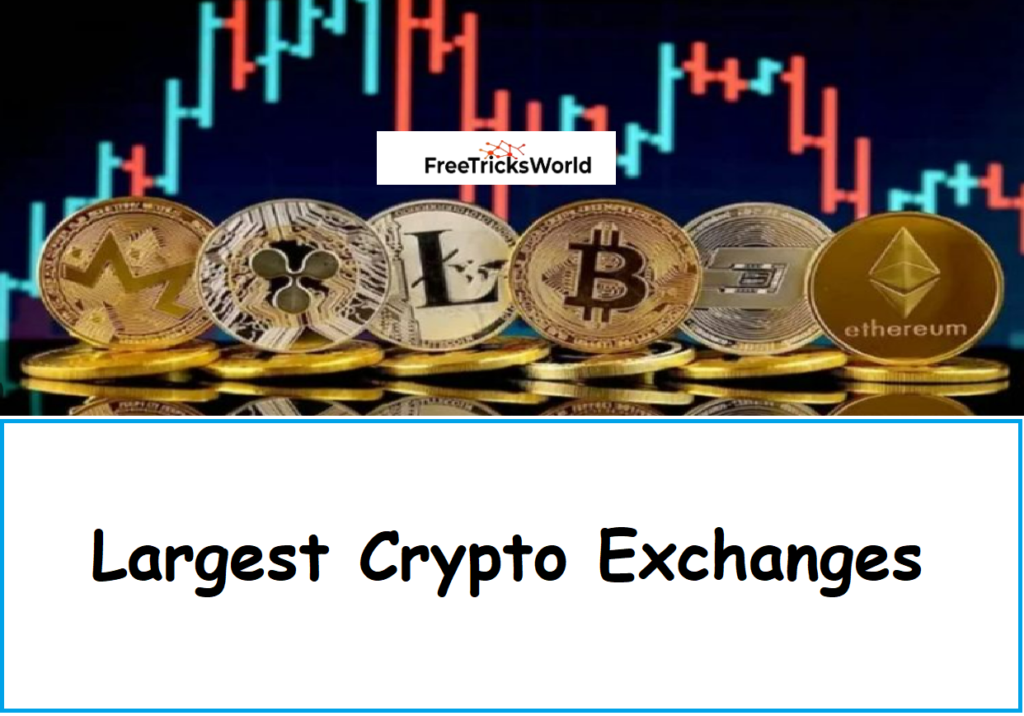 Factors to Consider When Choosing a Crypto Exchange
Security and Trustworthiness: Ensuring the security of your digital assets is of utmost importance. Look for exchanges that prioritize security measures such as two-factor authentication (2FA), encryption, and cold storage for funds. Additionally, research the exchange's reputation and track record in the industry to gauge its trustworthiness.
User Experience and Interface: A user-friendly interface and intuitive trading platform can significantly enhance your trading experience. Seek exchanges that offer a seamless and responsive interface, along with advanced trading features like charting tools and a variety of order types. A well-designed platform makes it easier to navigate, execute trades, and monitor your investments effectively.
Supported Cryptocurrencies: Different exchanges support different cryptocurrencies. If you have specific digital assets in mind for trading or investment, ensure that the exchange supports those particular coins. A diverse range of supported cryptocurrencies provides you with more flexibility and trading opportunities.
Liquidity: Liquidity refers to the ease of buying or selling cryptocurrencies on an exchange. Higher liquidity generally results in faster transactions and better price stability. Opt for exchanges with high trading volumes and a large user base, as this indicates a more liquid market, reducing the risk of slippage and enabling you to execute trades more efficiently.
Fees: Exchanges charge various fees for their services, including deposit and withdrawal fees, trading fees, and transaction fees. Compare fee structures across different exchanges to find a platform that offers competitive rates without compromising on security and reliability. Consider how fees are calculated and whether there are any discounts available for high-volume traders or holders of the exchange's native token.
Customer Support: Responsive and reliable customer support is crucial when dealing with any issues or inquiries related to the exchange. Look for exchanges that provide multiple channels of support, such as email, live chat, or phone, and check their reputation for responsiveness and helpfulness in addressing user concerns.
Regulatory Compliance: Consider whether the exchange operates in compliance with relevant regulations in your jurisdiction. Exchanges that adhere to regulatory standards often provide a more secure and transparent trading environment. Verify the exchange's licensing and regulatory status to ensure your funds are protected and that you are operating within legal frameworks.
By considering these factors, you can make a more informed decision when choosing a cryptocurrency exchange that aligns with your specific needs and priorities.
Top 10 Largest Crypto Exchanges Worldwide
Many crypto exchanges are available in the market, But I have specified a few of them which are larger in size and very much trusted in nature where you can start your trading by spending a few of your bucks.
Let's come to one-by-one crypto exchanges according to their size
#1 Binance
Overview
Binance is widely recognized as one of the largest and most influential cryptocurrency exchanges in the world. Established in 2017, Binance has rapidly grown to prominence, offering a vast selection of cryptocurrencies and a user-friendly interface. It provides users with access to an extensive range of trading pairs and advanced trading tools and features.
This is the number one crypto currency in the market internationally since it has more than 350 cryptocurrencies to trade and buy. No doubts where are you from it may be from different region or country from any place you can start your trading if you you have an account with Binance.
Here you can start your digital trading by simply 3 simple steps like
open account then Verify your identity
Fund your account
Start your trading
Even you can earn daily reward on your idle tokens and the most important part of Binance is that its cimpletely safe and secure and they are legal tender and under guideline of US.
The trade volume of this farm is more than 237 core dollar which is very big and thats why it is the largest crypto exchange in the world.
Key Features
Large Selection of Cryptocurrencies: Binance supports a vast array of cryptocurrencies, including popular ones like Bitcoin (BTC), Ethereum (ETH), and Ripple (XRP), as well as numerous altcoins.
High Liquidity: With its large user base and high trading volumes, Binance provides excellent liquidity, ensuring smooth trading experiences for users.
Binance Coin (BNB): Binance has its native cryptocurrency called Binance Coin (BNB), which users can utilize for discounted trading fees and participate in token sales on the Binance Launchpad platform.
Advanced Trading Options: Binance offers various trading options, including spot trading, futures trading, margin trading, and more. This allows users to engage in different trading strategies based on their preferences and risk tolerance.
#2 Coinbase
Overview
Coinbase is a prominent cryptocurrency exchange based in the United States. It has gained significant recognition for its user-friendly interface and robust security measures. Coinbase focuses on providing a reliable and secure platform for users to buy, sell, and store cryptocurrencies.
This is an american based company which deals with cryptocurrency and as of now there no physical office for this but its most popular due to its service and security.
Most of the guy who are aware of cryptocurrency they always prefer to go for this trade exchange but you have your own decision to choose the right one.
It has a large customer base because of its its trade volume increased to 44 lakhs core quarterly. Its growing and growing in due time it almost available to 100+ countries that's why it is the second largest exchange.
The most important thing of coinbase is that it provides secure storage and follows industries best practice to adhere the law and service.
Key Features
Easy-to-Use Interface: Coinbase offers a simple and intuitive interface, making it suitable for both beginners and experienced traders. It provides a seamless experience for buying and selling cryptocurrencies.
Vault Protection: Coinbase incorporates advanced security measures, including a vault system, to safeguard users' funds. The vault requires multiple layers of authentication and approval for withdrawals, ensuring enhanced security.
Custodial Services: Coinbase provides custodial services, allowing institutional investors and businesses to securely store their cryptocurrencies.
Coinbase Pro: For more experienced traders, Coinbase offers an advanced trading platform called Coinbase Pro. It provides additional features such as advanced order types and lower trading fees.
#3 KuCoin
Overview
KuCoin is a rapidly growing cryptocurrency exchange known for its extensive selection of cryptocurrencies and user-friendly interface. It aims to provide a secure and straightforward trading experience for users worldwide.
KuCoin is the 3rd largest bitcoin exchange in the world as compare to the trade volume, If you are new and and you are looking for something exciting you should choose the exchange for your all cryptocurrency need why because they are giving $500 as a joining bonus to the first time user.
This exchange support all types of coins to trade like Alt coin and crypto coin and NFT . There are more than 700+ alt coins and more than 300+ bitcoins are available to buy & sell.
This is the No 1 altcoin exchange i the world, Even if you have an social account by that also you can able to trade here which is the unique option till now they are providing.
Key Features
Wide Range of Cryptocurrencies: KuCoin supports a diverse range of cryptocurrencies, including both popular and emerging digital assets. This extensive selection provides users with a wide variety of trading options.
KuCoin Shares (KCS): KuCoin operates on its native cryptocurrency called KuCoin Shares (KCS). Holding KCS offers benefits such as reduced trading fees, bonuses, and participation in the exchange's token distribution.
Fast and Responsive Trading Platform: KuCoin offers a fast and responsive trading platform with an intuitive user interface. This allows users to execute trades quickly and efficiently.
KuCoin Futures: KuCoin also provides futures trading options, allowing users to trade cryptocurrency contracts with leverage.
#4. Kraken
Overview
Kraken is a reputable cryptocurrency exchange known for its robust security measures and transparent fee structure. Founded in 2011, Kraken has established itself as one of the oldest and most trusted exchanges in the crypto industry.
Key Features
Strong Security: Kraken emphasizes security and has implemented advanced measures like two-factor authentication (2FA), cold storage, and encryption to protect users' funds.
Transparent Fee Structure: Kraken has a transparent fee schedule that varies based on the trading volume and the user's tier level. This ensures that users have a clear understanding of the fees they will incur.
Margin Trading: Kraken offers margin trading for users who want to amplify their trading positions by borrowing funds. This feature enables users to potentially increase their profits but also comes with additional risks.
Wide Range of Trading Pairs: Kraken supports a wide selection of trading pairs, including major cryptocurrencies like Bitcoin and Ethereum, as well as various fiat currencies.
#5. Huobi Global
Overview
Huobi Global is a leading global cryptocurrency exchange that provides a secure and comprehensive trading platform for users worldwide. Established in 2013, Huobi has built a strong reputation and attracts a significant user base.
Key Features
Global Presence: Huobi Global serves users from various regions around the world, offering multilingual support and localized services.
Robust Security Measures: Huobi prioritizes security and employs advanced security technologies, including cold storage, to ensure the safety of users' assets.
OTC Trading: Huobi offers over-the-counter (OTC) trading services, allowing users to trade cryptocurrencies directly with each other outside the traditional exchange order books.
Huobi Token (HT): Huobi has its native token called Huobi Token (HT), which provides various benefits to its holders, such as discounted trading fees, participation in token sales,
#6. Bitfinex
Overview
Bitfinex is a well-established cryptocurrency exchange that has been operating since 2012. It has gained recognition for its robust trading platform and diverse range of trading options, catering to individual traders and institutions alike.
Key Features
Advanced Trading Interface: Bitfinex provides a sophisticated trading interface tailored to meet the needs of professional traders. It offers a wide variety of order types and trading tools to facilitate complex trading strategies.
Liquidity and Market Depth: With its large user base and high trading volumes, Bitfinex boasts ample liquidity and deep order books, ensuring efficient and smooth trading experiences for users.
Margin Trading and Funding: Bitfinex enables users to engage in margin trading, allowing them to trade with borrowed funds and potentially amplify their trading positions. Additionally, Bitfinex provides a peer-to-peer funding market where users can lend or borrow funds for margin trading purposes.
Exchange and Wallet Services: Bitfinex offers both exchange services for trading cryptocurrencies and secure wallet services for storing digital assets. Users can conveniently trade their cryptocurrencies on the platform while also having the option to store them securely in Bitfinex's wallets.
Please note that when using Bitfinex or any other cryptocurrency exchange, it is important to conduct thorough research and consider factors such as security, fees, and supported cryptocurrencies to ensure the exchange aligns with your specific needs and requirements.
#7. FTX
Overview
FTX is a rapidly growing cryptocurrency derivatives exchange that has gained attention for its innovative trading products and advanced features. Founded in 2017, FTX caters to both retail and institutional traders.
Key Features
Wide Range of Derivatives: FTX offers a diverse array of derivative products, including futures, options, leveraged tokens, and volatility products. This allows traders to explore different strategies and market conditions.
Innovative Trading Products: FTX has introduced unique trading products such as leveraged tokens and prediction markets. These products provide users with new avenues for trading and speculation.
Margin Trading: FTX supports margin trading, enabling users to trade with leverage and potentially amplify their profits. However, it's important to note that margin trading also carries increased risks.
FTX Token (FTT): FTX has its native token called FTX Token (FTT), which offers various benefits, including fee discounts, staking rewards, and participation in tokenized events.
#8. Bitstamp
Overview
Bitstamp is one of the oldest cryptocurrency exchanges, founded in 2011. It has established itself as a reliable and transparent platform for trading cryptocurrencies, with a focus on security and regulatory compliance.
Key Features
Regulatory Compliance: Bitstamp adheres to strict regulatory standards and holds licenses in multiple jurisdictions. This commitment to compliance provides users with a secure and trustworthy trading environment.
Transparent Fee Structure: Bitstamp maintains a transparent fee schedule, making it easy for users to understand the costs associated with their trades.
Liquidity: Bitstamp benefits from its long-standing reputation and active user base, resulting in good liquidity and competitive order execution.
FIAT Support: Bitstamp allows users to deposit and withdraw funds in fiat currencies such as USD and EUR. This feature makes it convenient for users to enter and exit the crypto market.
#9. OKEx
Overview
OKEx is a prominent cryptocurrency exchange known for its diverse range of trading options and global presence. Founded in 2017, OKEx has become one of the leading exchanges in terms of trading volume.
Key Features
Comprehensive Trading Options: OKEx offers a wide range of trading options, including spot trading, futures trading, options trading, and more. This allows users to engage in various trading strategies.
OKB Token: OKEx has its native token called OKB, which provides various benefits, including fee discounts, access to exclusive features, and participation in token sales.
Leveraged Trading: OKEx supports margin trading and provides users with access to leverage, allowing them to trade with borrowed funds and potentially amplify their gains or losses.
Global Presence: OKEx serves users from around the world and offers localized services and support in multiple languages.
#10. Coincheck
Overview
Coincheck is a popular cryptocurrency exchange based in Japan. Established in 2014, Coincheck provides a user-friendly platform for buying, selling, and trading cryptocurrencies, with a strong focus on security.
Key Features
Localized Services: Coincheck caters to the Japanese market and provides localized services and support in the Japanese language.
Security Measures: Coincheck places a strong emphasis on security and implements measures such as two-factor authentication (2FA), cold storage, and multisignature wallets to safeguard user funds.
Margin Trading: Coincheck offers margin trading services, enabling users to trade with leverage and potentially enhance their trading opportunities.
Mobile App: Coincheck provides a mobile app for convenient access to trading and account management. This allows users to trade on the go.
Conclusion
The crypto market continues to evolve, and new exchanges emerge to meet the growing demand for cryptocurrency trading. The exchanges mentioned here, including KuCoin, FTX, Bitstamp, OKEx, and Coincheck, offer unique features, a wide range of trading options, and robust security measures. When selecting an exchange, it is crucial to consider factors such as security, liquidity, supported cryptocurrencies, trading options, fees, and regulatory compliance. Conducting thorough research and evaluating your trading needs will help you choose an exchange that aligns with your requirements.