(New)Google Pay Welcome 2020 offer Collect All Stamps Tricks
By
• Last Updated
Google Pay Welcome 2020 Offer, Google pay All 7 Stamps Complete Cake Offer: Today everyone has a question that how to collect all 7 stamps from google pay, Today we will discuss how you can avail the benefits of google pay welcome offer by collecting all 7 stamps.
Complete any layer to earn your first bonus reward which will provide you Rs 202-Rs 2020 once you collect all the7 stamps.
How To Earn up to Rs 2020 Using Google Pay?
Recently Google has introduced a very good 2020 offer within its payment UPI app channel namely google pay, So the company is promising its users to get up to a guaranteed amount of Rs 2020 from starting Rs 202 post revealing all the 7 stamps which are separated by 3 layers.
Since the company has declared that the offer is going in between 23rd December 2019 to 31st December 2019, so within this period you have to collect all the stamps( Disco, Toffee, Selfie, Pizza, Balloon, DJ and Sunglasses) as specified by google to complete the offer to won the amount up to Rs 2020.
Google Pay Welcome 2020 Offer
Google has come with a new offer to welcome the 2020 or new year by giving some attracted offers to its users is known as google pay welcome 2020 offer.
To avail of this offer, you need to complete the task as given by google pay itself which will give you a scratchcard amount of Rs 202 to Rs 2020.
Since this type of offer is not new to us as previously google pay launched Diwali offer just like that only this offer works.
I hope you guys have a clear picture of how it's going to works.
Offer Details
As compared to the previous Diwali stamp offer now this time google pay has come up with some more methods of collecting the stamps to earn to complete the layer.
This time all the 7 stamps have come up with 3 different layers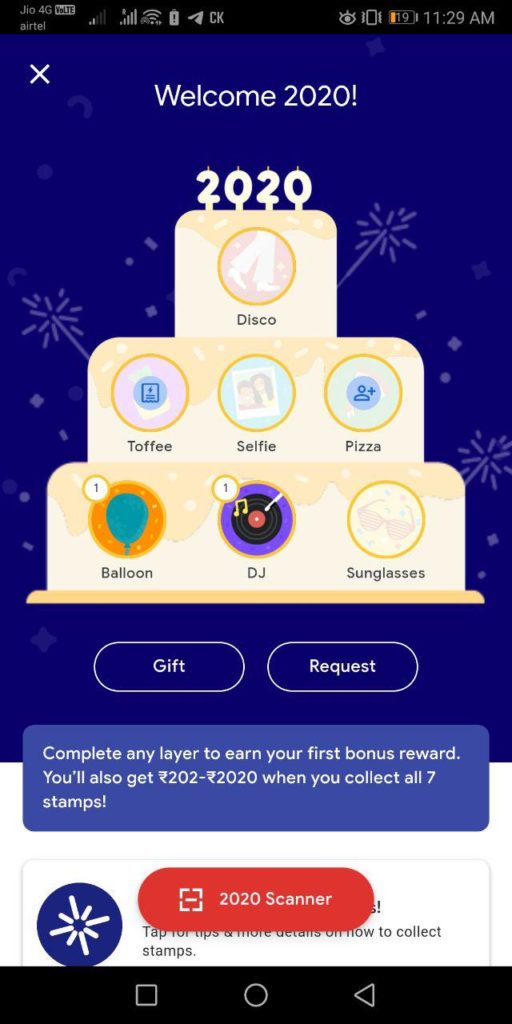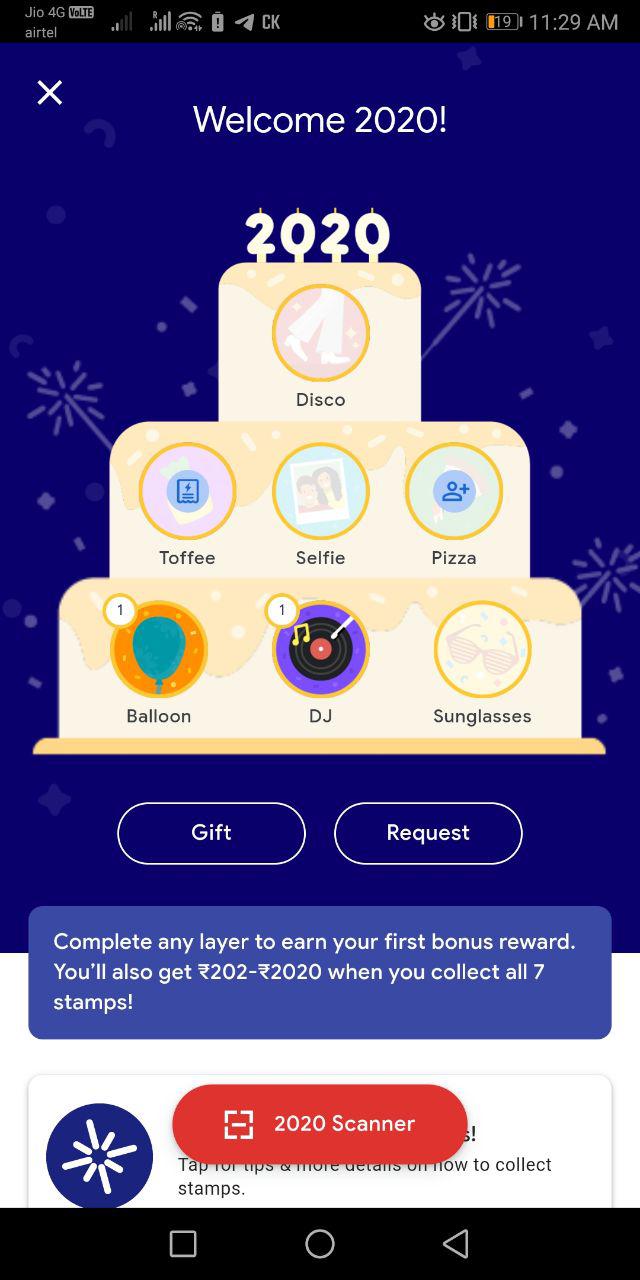 As you can see in the above image I have collected 2 stamps of 3rd layer, However, there are 3 different layers, Once you have collected all the stamp of any one layer then you can earn your first bonus reward as the flash message says as you see on the snapshot.
Google Pay Welcome 2020 Offer Consists of 3 Complete layers:
1st Layer: Disco Stamp
2nd Layer: Toffee, selfie, Pizza stamps are there
3rd Layer: Baloon, DJ, Sunglasses stamps are there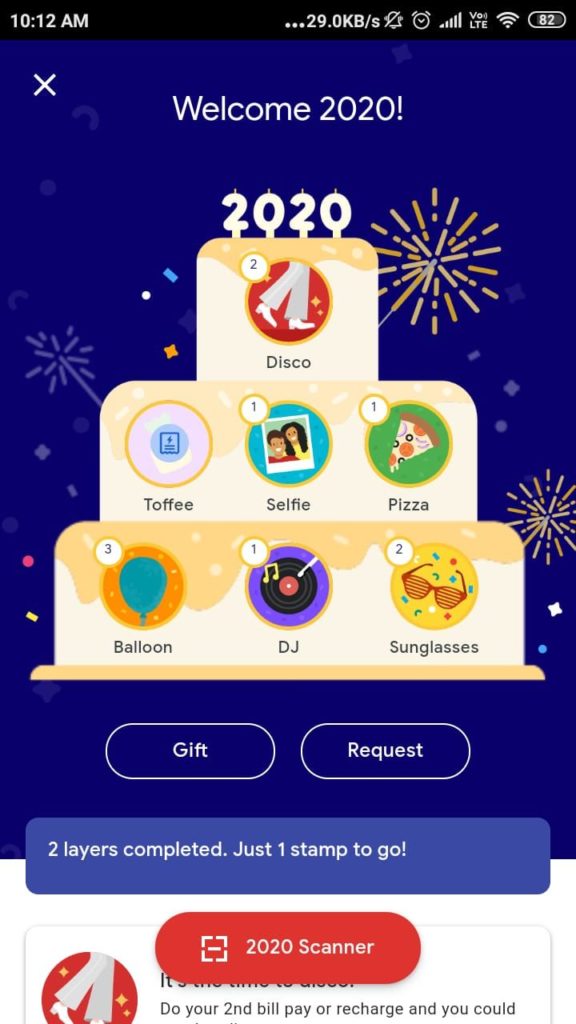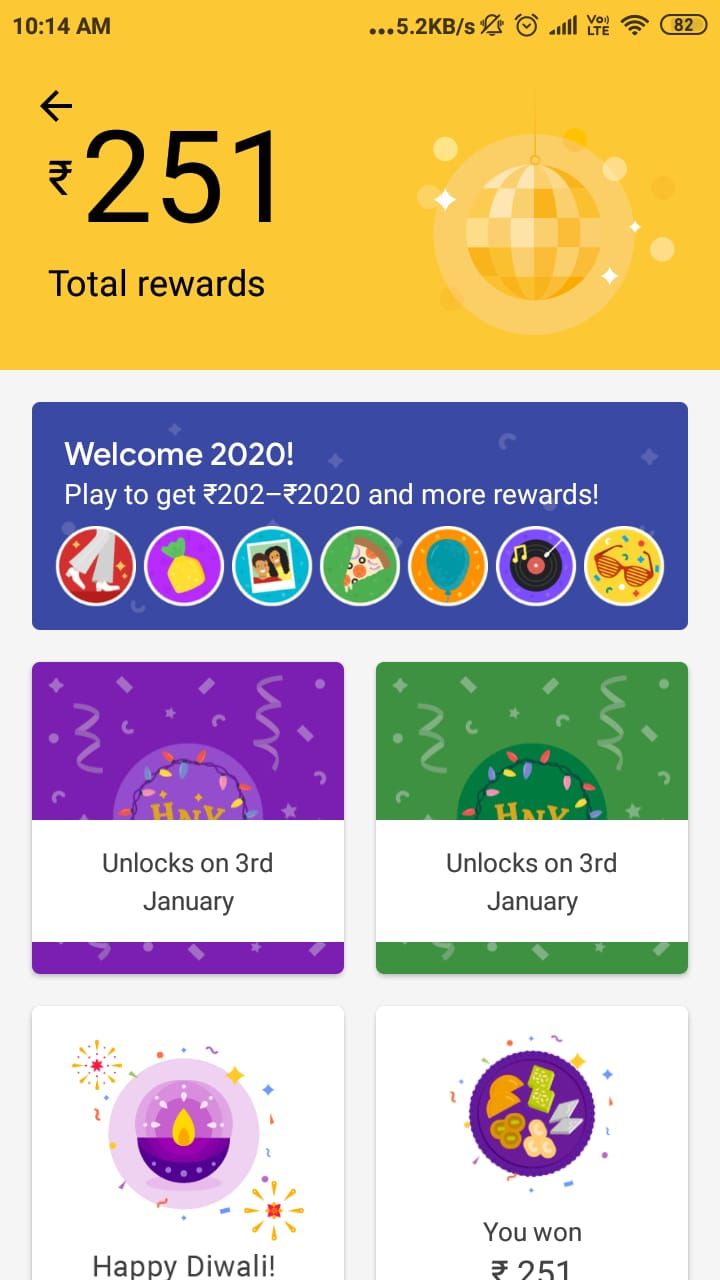 As you can see we have completed 2 layers successfully &the scratchcards will active on 3rd january , now we have 2 disco stamp with us, Only 1 toffee stamp left to complete the google pay welcome 2020 offer.
If anyone want any stamp kinldy comment below with the link.. we will sent you if we have extra stamps
How To Claim The Offer
Open your google pay app if it is not updated kindly update the google pay app to see the latest offer from google pay.
Once you opened the app you can see there is a new offer logo for 2020 click on that.
Once you clicked that 2020 welcome offer you can see the complete offer details & the stamps you have collected till now.
As shown above on the image you can see the logo offer from google pay app.
Now clicked on the offer logo to proceed & win the scratchcard.
Google Pay Offer Reward
1. Its mentioned by google pay that you will first time receive a reward once you collect all the stamps of any one layer from three layers.
2. You can also rewarded Rs 202 to Rs 2020 by google pay once you collect all the 7 stamps as mentioned by them.
How To collect Google pay welcome 2020 Stamps?
Officially as announced by google there are multiple ways to collect the stamps We will here discuss below one by one which will lead you to collect which type of stamp.
You can collect stamp by gifting them to your friends, Note that only if you have extra stamp then only you can choose this method else your collected stamp will go.(Maximum 5 per day allowed)
Collect stamp by requesting them to your friends or family, If then accept your request then also you can get a stamp here. (Maximum 5 per day allowed)
Also get a useful stamp by paying a business, spot or any google pay merchant, maximum 5 stamps per day you are allowed.
Pay bills /DTH/Electricity/Phone anything & also doing any mobile recharge with a minimum of Rs 300 to get a valuable stamp which will lead to complete your one of the layers.(Note: 5 stamps per day allowed)
Now You can also earn stamps by inviting anyone to google pay which was also set a maximum of 5 per day to maximize your limited stamp collection.
The most amazing feature to collect the stamps of 2020 that you need to use the 2020 scanner to scan the number 2020 to collect the stamps.
The new option to collect the limited types of stamps from google pay is that you can listen to On-Air ads.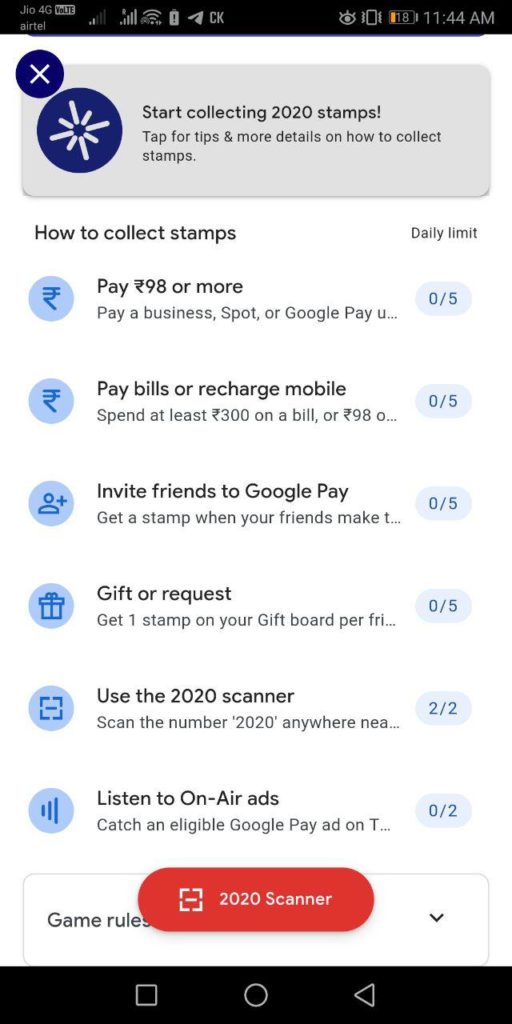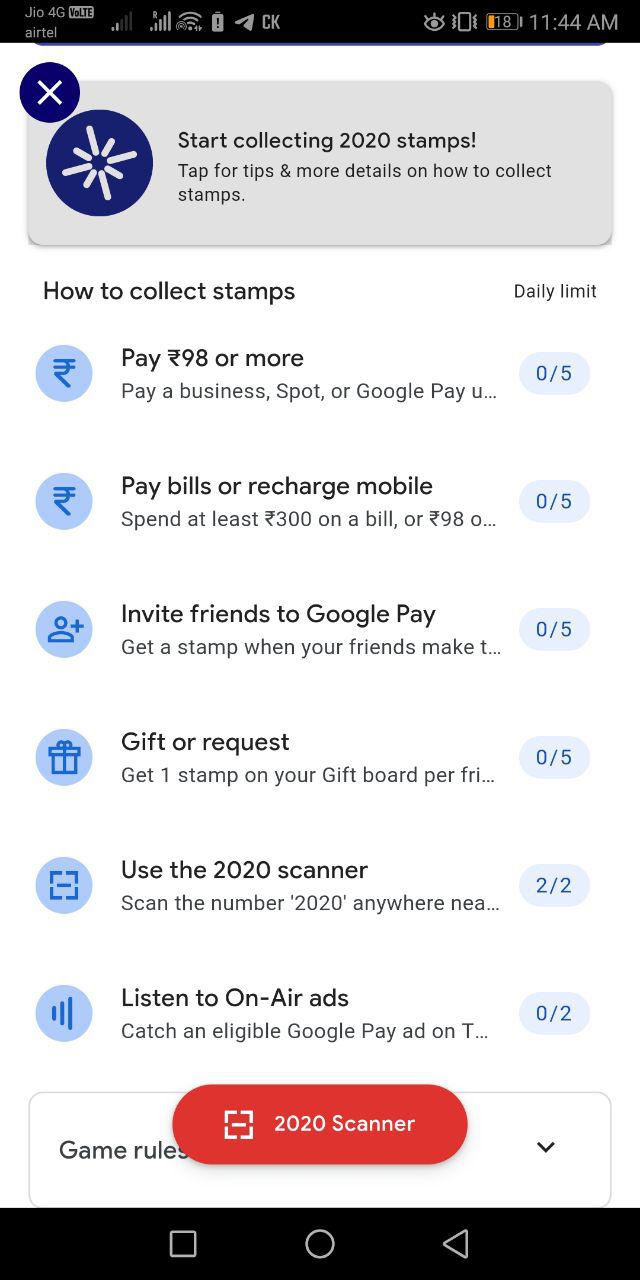 Now We will discuss which thing let you earn which type of stamps
How To Collect Disco Stamp?
Disco stamp is a limited stamp or you can say the rare stamp & ts very hard to grab the same, We recommend to proceed with the below steps to collect it.
Recharge your DTH/BILL PAYMENT/TELEPHONE BILL continuously 3 times to grab the same, Note that the minimum recharge denomination should be Rs 98 or more.
Pay your credit card bill using cred by & choose the method google pay to collect the Disco stamp from google.(If note repeat 3 times)
Add money using paytm choose google pay then proceed also let you earn the Disco stamp from google pay.
Collect Toffe Stamp
It's not that much easy to get the toffee stamp, You can collect it simply by sending money to your friends.
Collect the stamp by paying to any google pay merchant with a minimum of Rs 98 or more.
How To Collect Selfie/Pizza Stamp?
Simply by using the 2020 scanner, you can easily get these stamps as there is a limit kept for this that is maximum 2 times per day you can use the scanner to collect the stamps.
You can also get these unique stamps by sending or requesting or gifting to your friends.
How To Get Ballon, DJ, Sunglasses?
If you are looking for the Baloon, DJ, Sunglasses stamps then here i will guide you on how you can collect them by following our steps here.
Do a recharge of your mobile number with a minimum of Rs 98 or more to get the same.
Use your 2020 scanner to scan any 2020 letter to collect these stamps easily.
Send any gift stamp to your friends to collect the Baloon DJ stamps easily.
Sunglasses stamp can easily be collect by pay to a google pay business merchant.
Google Pay 2020 Game Rules
Collect all 7 different stamps to complete the cake by 31 Dec 2019 and get an assured gift from Google Pay.
You also earn 1 bonus reward per layer for any cake layer you complete. The more layers you complete, the more rewards you unlock!
Collect these assured stamps the first time you perform the following during the game period from 23 Dec 2019 – 31 Dec 2019:
pay a bill (Toffee stamp),
recharge your mobile (DJ stamp), or
invite a friend to Google Pay who makes their first payment using your referral code (Pizza stamp).
See offer terms and conditions for details.
Other than the above, all other stamps will be variably distributed. You could collect any one of the 7 different stamps through the different collection methods.
There is a daily limit per collection method. See "How to collect stamps" section and full offer terms and conditions for details.
Google Pay Offer Benefits
Since google pay coming with a new & updated offer regularly to attracts its users to use google pay features. So you can use this app to recharge your monthly bills since its giving something instead of nothing.
We recommend users to use google pay as the app is giving Rs 202 free scratchcard for completing small tasks that you can do for your house bill payment.
For a long time, google pay is not giving any offer that's why the reason most people are using some other app to pay their bill or recharge purposes.
But After the recission periods now Google has come up with some interesting recharge options to motivate its users again to use google pay to get free Rs 202-Rs 2020 amount from it by simply using its app for your daily or monthly expenditure.
You can claim these offers by using the google pay app itself which is completely free & easy to use.
Try This: Earn Money Using Paybox
ADVANTAGE OF Welcome 2020 Offer
Get a scratch card with an assured gift from Google Pay worth ₹202 to ₹2020 when you complete the cake by collecting all 7 different stamps.
You also earn a bonus reward for any cake layer you complete. Choose your own bonus reward from a selection that includes vouchers, scratch cards, and lucky draw tickets worth up to ₹20 lakh.
Claim and choose your rewards in the 2020 game by 31 Dec 2019.
Your claimed rewards will appear in the rewards channel.
You can earn a maximum of 1 bonus reward for each cake layer, and 1 scratch card for completing the cake.
Must Read: Windows 12 Release Date
Offer Terms & Condition
You are not eligible for this offer if you have already earned over INR 9,000 during this current fiscal year (1 April to 31 March) across all Google Pay offers.
This offer is not available to residents of the state of Tamil Nadu.
Any reward money you earn will be deposited to your UPI enabled savings account in Google Pay.
If you do not link your UPI enabled savings account to your Google Pay account within 45 days of claiming the reward, the reward will be deemed to be forfeited.
Conclusion
Here I gave you a complete & clear idea that how you can collect all the required stamps to earn a scratchcard of Rs 202 to Rs 2020 on this new year. Make your dreams come true.
Kindly note the above-specified tricks to get the stamps are as a suggestion by freetricksworld to all the users since these tricks are working in the previous go,
Hope these will works in this offer too, Try these at your own risks & let us know if somebody got any stamp on any tricks by commenting below.